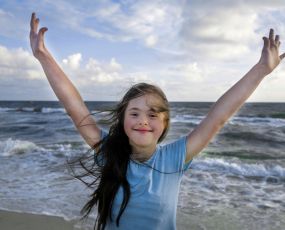 Down's Syndrome
About 40,000 people in the UK have Down's Syndrome: approximately one in every thousand babies born here. The Down's Syndrome Association notes that "Down's syndrome is caused by the presence of an extra chromosome in a baby's cells. In the majority of cases, Down's syndrome is not an inherited condition. [It] usually occurs because of a chance happening at the time of conception."
People with Down's Syndrome have some degree of learning disability but the syndrome is "not a disease. People with Down's syndrome are not ill and do not 'suffer' from the condition."
On the contrary, they bring distinct gifts: they are often unusually perceptive, accepting and fun-loving. Many of them have an amazing ability to notice and remember details.